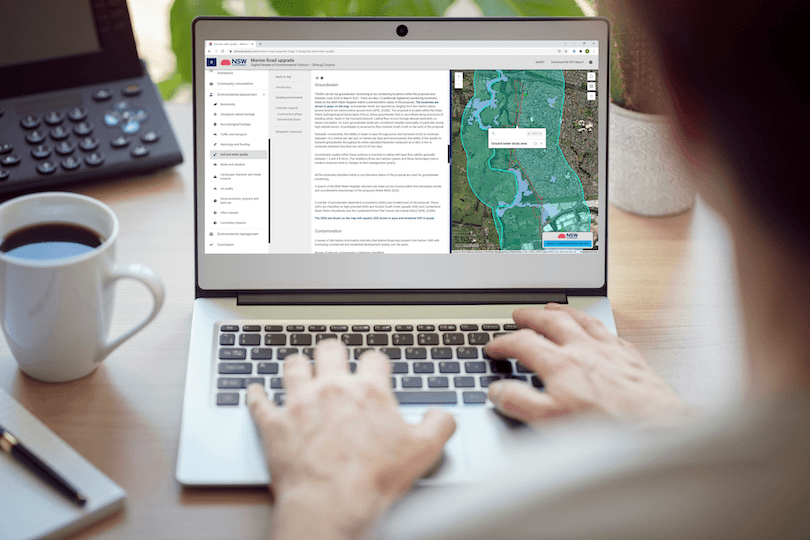 Insight
PlanEngage™ for Interactive NEPA Documents
Digital AECOM's PlanEngage brings an innovative cloud-based approach to the EIS process, strengthening communication between stakeholders, improving decision-making, and speeding up review cycles. This helps to eliminate unnecessary delays and ensure project milestones are met on time and on budget – ultimately delivering better outcomes for impacted communities and the environment.
PlanEngage Key Benefits:
Collaborative Reporting and Review
Create a coordinated approach for everyone involved in the EIS process.
Cloud-based technology unifies all project information in a centralized platform, ensuring everyone is working off the same set of documents.
With versatile and easy-to-use collaboration tools, multiple agencies can review and comment in real-time, allowing information to be evaluated and edited faster and more effectively.
Reports can be worked on simultaneously and submitted with transparency, not only saving time for everyone involved, but also ensuring stakeholders have access to the most up-to-date information.
Inclusive Public Engagement
Enable all stakeholders – from public agencies to community members – to review projects that are being proposed in their cities, towns, and neighborhoods more intuitively, and more inclusively.
Everyone can access and review the information they need effortlessly through a user-friendly online interface.
Documents are easy to navigate and can include interactive visualizations like maps, multimedia, 3D modeling, and before & after sliders to provide robust insights and enhance project understanding – simplifying even the most complex technical topics – and bringing them to life.
Mobile-friendly information sharing allows community members to participate and ask questions from any device at any time drawing higher levels of interest, reaching broader audiences, and enabling a wider diversity of voices.
Faster Permitting
Streamline effective communication and decision-making, eliminating unnecessary delays.
Implementing intuitive tools allow stakeholders to provide direct feedback more quickly and easily, fostering greater clarity and reducing review cycles.
A collaborative approach for multi-agency reviews ensure that issues and questions can be addressed promptly and efficiently. By bringing all information together in a unified platform, potential delays are avoided, objections are reduced, and resolutions are achieved in real-time.
Interactive public engagement solutions that are easily accessible enable diverse perspectives to be leveraged, resulting in well-informed decisions that align with the
expectations of all stakeholders. Proposed projects can be monitored transparently and tracked through to final approval faster and with more certainty.
AECOM is the world's trusted infrastructure consulting firm, delivering professional services throughout the project lifecycle from advisory, planning, design and engineering to program and construction management. Digital AECOM combines decades of global industry experience in a broad range of markets, including buildings, infrastructure, energy, water, and environment to deliver purpose-built products and services that unify all project data and create greater connectivity between projects and communities.
More content you might like
The Case for Interactive Cloud-Based NEPA Documents
Find out how interactive cloud-based documents can improve decision-making, increase equity and collaboration, build trust, and decrease delays during the NEPA process